Clubhouse
AYC has had a clubhouse on the beach overlooking Lyme Bay since the 1950s.
The first small permanent clubhouse was built by volunteers in 1951.
This was enlarged and a race tower was incorporated in 1974.
In 2006/2007 the clubhouse was enlarged further to incorporate a large function room, a kitchen and a well-stocked bar overlooking the sea. The race tower was removed and a pitched roof was added. In keeping with the self-help ethos of AYC, the majority of this construction work was completed by Club members.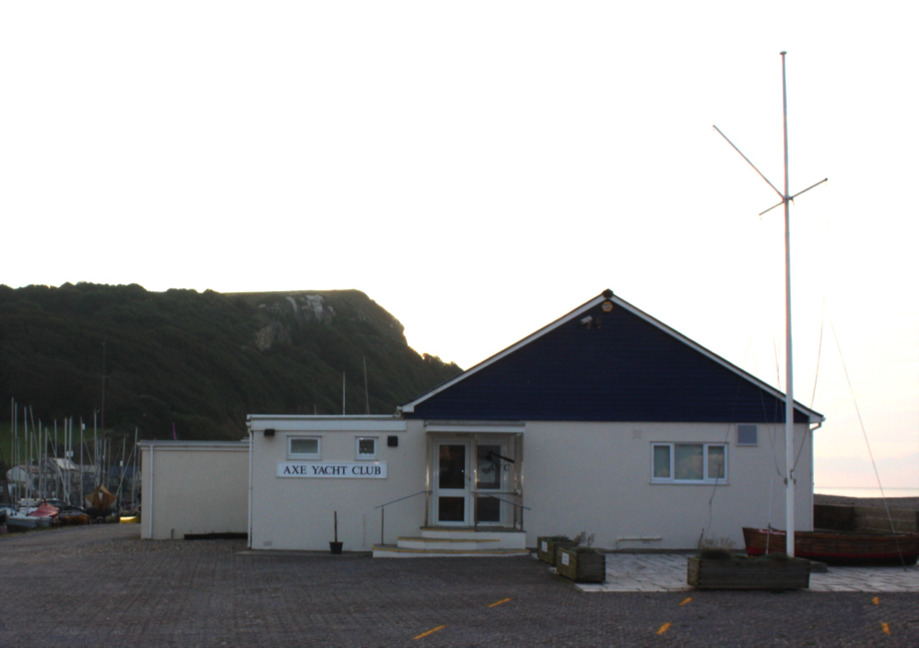 A number of extensions were subsequently added to the north aspect to increase storage space. However, with the success of the '5yr Strategy to Develop Family Sailing' 2012-2017, the existing 3 showers for men and 2 for women were insufficient for the increasing number of dinghy sailors of all ages. The small open changing areas presented a challenge, particularly in terms of safeguarding.
A major refurbishment was undertaken over the 2019/2020 winter supported by a Sport England grant. Although the overall footprint of the building has not been increased dramatically, the refurbishment has enabled better use of the space the clubhouse occupies. The main entrance has been moved to the north side of the building, providing a new welcoming and accessible entrance facing members as they approach on foot or by car.
The refurbishment has also provided:
Six new showers in both male and female facilities.
Generous changing areas with plenty of bench and hanging space.
Plenty of space for lockers.
Dedicated family/disabled shower/toilet facility.
Entrance hall with a practical layout and plenty of space for trophy cabinets and notice boards.
Modern efficient office space.
Separate training/meeting room.
Reconfigured and improved beer cellar area.
Apart from some cosmetic finishing (completing external painting, installation of hand rail on entrance ramp etc) the refurbishment has been completed despite the coronavirus pandemic and we look forward to re-opening with the new improved facilities once the lockdown restrictions are lifted.
June 2020