Home
/
The Club
/
Join the Club
Join the Club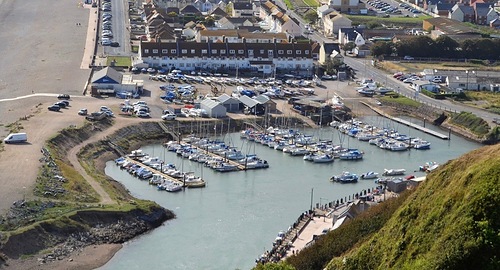 Welcome to the Axe Yacht Club, a vibrant club located at Axmouth Harbour, East Devon.
The Axe Yacht Club (AYC) has over 900 members engaged in a wide range of activities including dinghy sailing, cruiser sailing and motor boating/angling. There are just over 100 pontoon moorings, allocated from a waiting list, and the Club can also accommodate a substantial number of boats for launch and retrieve from a slipway located in the harbour. Dinghy sailing can be enjoyed on the sea with beach launched boats and on the River Axe when tides allow. Note, the harbour is accessible only at certain states of the tide and can experience strong tidal streams. There is a shifting shingle bar at the entrance which, under adverse conditions, may make the entrance impassable - see Axmouth Harbour Pilotage.
The Activities Afloat team organise a comprehensive programme of dinghy and cruiser races, with the motor boat section organising fishing competitions. The Club has an active cadet & family sailing section with regular activities throughout the year. All of this is supported by a range of social activities in the excellent clubhouse overlooking Lyme Bay. The Club is affiliated to the Royal Yachting Association and is RYA approved to provide a range of shore based and on water courses. See About The Club for more details of what the Club has to offer.
Please note AYC invites new active members to join within the following criteria :

Active boat owners
Ex-AYC members who have retired from active boating.
Those who were previously members of RYA affiliated clubs and have "retired" to the area.
Those who "crew" (in its broadest sense) for current AYC members, who then act as their sponsors.
Those who join the Cadet & Family Sailing programme.
Those who apply to join so that they can go on the mooring waiting list.
Exceptionally after agreement by the EC.
If you would like to join AYC, download the application form below and post it to the Membership Secretary at the address given on the form. The current fees are listed on page 2 of the form - fees are payable if your application is accepted, do not send any money with your application form. You will normally receive an acknowledgement on receipt, by email if one is supplied, so please check junk mail folders. Please contact the Membership Secretary directly by phone or email if you have not heard anything within a week of posting the form.
Your application will be displayed in the Clubhouse for 14 days, If your application is accepted, you will be invited to join AYC and subsequently attend an informal New Members' event - the next New Members' event will be held on Saturday 15th January 2022 12-3pm (POSTPONED TO MARCH 12TH).
We look forward to welcoming you to AYC

Nigel Daniel, Commodore (commodore@axeyachtclub.co.uk)
Nick Jolly, Membership Secretary (nick.jolly@kimptonconsultants.co.uk)
Downloads