Home
/
The Club
/
Join AYC
Join AYC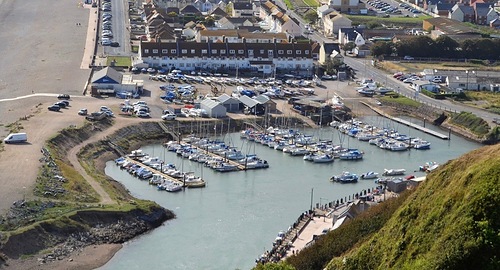 Welcome to the Axe Yacht Club, a vibrant club located at Axmouth Harbour, East Devon.
The Axe Yacht Club (AYC) has over 900 members engaged in a wide range of activities including dinghy sailing, cruiser sailing and motor boating/angling. There are just over 100 pontoon moorings, allocated from a waiting list, and the Club can also accommodate a substantial number of boats for launch and retrieve from a slipway located in the harbour. Dinghy sailing can be enjoyed on the sea with beach launched boats and on the River Axe when tides allow. Note, the harbour is accessible only at certain states of the tide and can experience strong tidal streams. There is a shifting shingle bar at the entrance which, under adverse conditions, may make the entrance impassable - see Axmouth Harbour Pilotage.
The Activities Afloat team organise a comprehensive programme of dinghy and cruiser races, with the motor boat section organising fishing competitions. The Club has an active cadet & family sailing section with regular activities throughout the year. All of this is supported by a range of social activities in the excellent clubhouse overlooking Lyme Bay. The Club is affiliated to the Royal Yachting Association and is RYA approved to provide a range of shore based and on water courses. See About The Club for more details of what the Club has to offer.
Please note AYC invites new active members to join within the following criteria :

Active boat owners
Ex-AYC members who have retired from active boating.
Those who were previously members of RYA affiliated clubs and have "retired" to the area.
Those who "crew" (in its broadest sense) for current AYC members, who then act as their sponsors.
Those who join the Cadet & Family Sailing programme.
Those who apply to join so that they can go on the mooring waiting list.
Exceptionally after agreement by the EC.
Mooring Waiting List: Pontoon moorings are only available to members of AYC and are allocated according to a waiting list. Whilst waiting for a mooring to become available (generally 3-5 years), members may be able to 'Launch & Retrieve' their boat via the slipway. The slipway is not generally available to non-members. Prospective members who intend to bring a boat to AYC should note that, in view of the tidal conditions and the restricted mooring area, the Club's bylaws include the following points:
Slipway launching is currently restricted to boats of 24ft max length but it is anticipated that this will be reduced to 20ft (6m) from 2024.

Moorings are available only for boats of up to a maximum of 31'6" overall length (including all overhangs), 10'10" beam and 5 tonnes displacement.

It is a drying harbour so boats on moorings must be capable of taking the ground without external support.
PLEASE NOTE: If you would like to join AYC, please email info@axeyachtclub.co.uk to check availability. Give us details of your boating interest and include a contact telephone number so we can put you in touch with a member who can give you more information and advice.

Nigel Daniel, Commodore commodore@axeyachtclub.co.uk
Carol Evans, Membership Secretary info@axeyachtclub.co.uk
Downloads