Coastal Cruising
AYC yachts and motor boats are frequent visitors to other ports along the South coast. Setting off from the Axe, members are ideally placed to cruise the scenic Jurassic coast eastwards to Weymouth or westward towards Dartmouth and beyond. Some cruise in company, others meet up with like-minded club members at their destination.

Rounding Beer Head

The Needles
Crossing the English Channel is a slightly longer adventure where the beautiful island of Alderney provides a staging post for France and the other Channel Islands. Our members have turned up in Holland, Belgium, Spain and Portugal. Closer to home, Ireland, Scotland and Wales have all been explored and enjoyed by our more intrepid members.

Raz Island, Alderney
Gannet colony on Les Etacs, Alderney
Dolphin spotting is a favourite pastime with the occasional sunfish, basking shark or turtle putting in appearances whilst crossing Lyme Bay. Events such as the Brixham Pirate Festival, Alderney week, Dartmouth Regatta, the British Firework Championships in Plymouth, or, closer to home, Candles on the Cobb and Guitars on the Beach at Lyme Regis, all provide interesting opportunities for our cruising fraternity.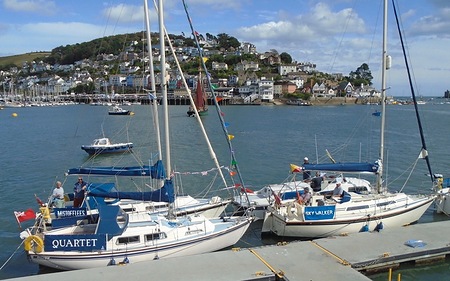 Dartmouth
Meeting up with friends
New Grimsby, Isles of Scilly
If you seek solitude then you can follow in the footsteps of those happiest lying at anchor in the Isles of Scilly or up one of the South West's rivers, creeks and coves - click HERE for an account of a coastal cruise.